Among the main SEO strategies is link building. Here's how to generate links to your site and reveal to search engines that your brand is a reference!
Every digital marketer knows that for a website to be on the first pages of Google, it is essential to focus on SEO strategies. And one of the pillars of a good SEO strategy is link building.
This tool aims to build a network of links to show search engines that your page is relevant to your area of expertise. Links influence the positioning of a website in search engines from the beginning, but they become increasingly important with each update.
What is link building?
Link building is the term for the set of actions and tactics that aim to acquire relevant and qualified link building from other websites. These actions make it possible to increase a page's reputation in search engines. Thus, it also increases organic traffic.
Links show Google the authority and popularity of the link concerning the market. These links can be both external and internal, even though external links are the links that first come to mind when we think of link building.
The more links your site receives from widespread and trusted sites, the more relevant it will become to search engines. Because of this importance, more and more SEO professionals are investing in link building.
Advantages of link building
Links have been important since the beginning of the internet. After all, the World Wide Web is a set of pages interconnected by a type of "web" or "web." The links, in turn, are responsible for making these links.
Currently, link building directly influences the positioning of pages in search engines, being one of the main factors for ranking pages on Google.
So, the more quality backlinks the site has, the better Google ranking it will get. In addition, he will have more authority in his acting niche.
This is because links work to demonstrate the authority of a web page. The better your position at Google, it is understood that you have more authority on the subject addressed or in your field of activity.
In addition, link-building strategies can create more organic traffic to your website, bringing visitors to the page you referred to. This results in more people getting to know your brand and prospecting for new customers.
Link Building: Quantity vs Quality
We already understand that building links are significant in an SEO strategy, but they are not always beneficial to the site.
A backlink without quality or that is considered in bad faith by Google's algorithms can result in negative points for the page. Therefore, it is necessary to understand the characteristics of backlinks considered good.
Quantity: the number of domains that indicate your page and their diversity, that is, how many sites point to yours;

Quality: the quality of these backlinks, taking into account the relevance of the subject and the authority of the site that is referring you.
The important thing is that the Link Building strategy is carried out naturally, without mentioning your site or having the same texts on different sites.
Several factors can directly influence the quality of a backlink, making the SEO professional alert when creating his link-building strategy.
See more!
The number of links that point to external pages
The more backlinks are indicating quality pages, the greater the added value of the site. After all, it aims to improve the reader's experience, indicating pages with content that complement that subject.
The quality of the sites you indicate on your page
Indicating domains with credibility and authority in the market can make your content more complete. In addition, they improve the image of your site with search engines.
See this publication on the website of one of Gluz's clients:
Most Effective Link Building Strategies
To apply link building on your website, there are several strategies, both advanced and fast. Quick strategies are especially effective for those who don't have as much time or knowledge in link building. Are they:
1. Replicate a competitor's backlinks
One of the most popular tactics, as it is simple and effective. Analyzing the backlinks that your competitors make and using inspiration for your backlinks will help to improve your positioning with your competitors.
2. Add URLs to a post or comment.
This technique, although controversial, is still used, but it needs wisdom. It consists of putting a URL inside your comment or message. 
So that Google doesn't see it as spam, make sure the link and text contain relevant information to whoever is reading it. If applied correctly, it can improve the visibility of your website.
Many people use this technique, but strictly on blogs and forums. When applied alongside other strategies, it can be very effective. However, there is a chance that Google will understand your comment as spam and lower your position.
Below is an example of a comment that the Gluz team made, applying the link naturally:
3. Business Directories
Some sites offer space for entrepreneurs to register information about their company, such as contact details and a link to the site. Google has the My Business tool, but sites like Yelp, Trip Advisor, and many others can also be used.
This type of registration helps position your site in Google and other search engines, in addition to bringing more customers. Advanced Link Building strategies, or Outreach strategies, require a certain amount of time and knowledge but are highly effective.
Perhaps one of the most used techniques, even without this intention. Having a profile on social media is also considered a backlink technique, which can improve your site's positioning and gain the trust of your audience.
Check out the example of SeguroAuto.org, a client of Gluz, on Facebook:
5. Content Submissions
Sending content to dedicated platforms is one of the most effective strategies, especially for those promoting a specific product. Platforms can be marketplaces, blogging platforms, Wikipedia, news portals, online magazines and others. 
In addition, these can be free or paid, being characterized as advertising and containing the sponsorship TAG.
6. Guest posts
One of the most used and most effective link-building strategies to expand backlink options. Guest posts are content you will post on someone else's blog or website, linking to your page.
It can make your site more visible in the "about the author" section or a link to your page in a relevant part of the text. Many link-building partnerships consist of returning the referral, but investing in good digital marketing planning is necessary.
Below is an example of one of the guest posts made by Gluz for one of its clients: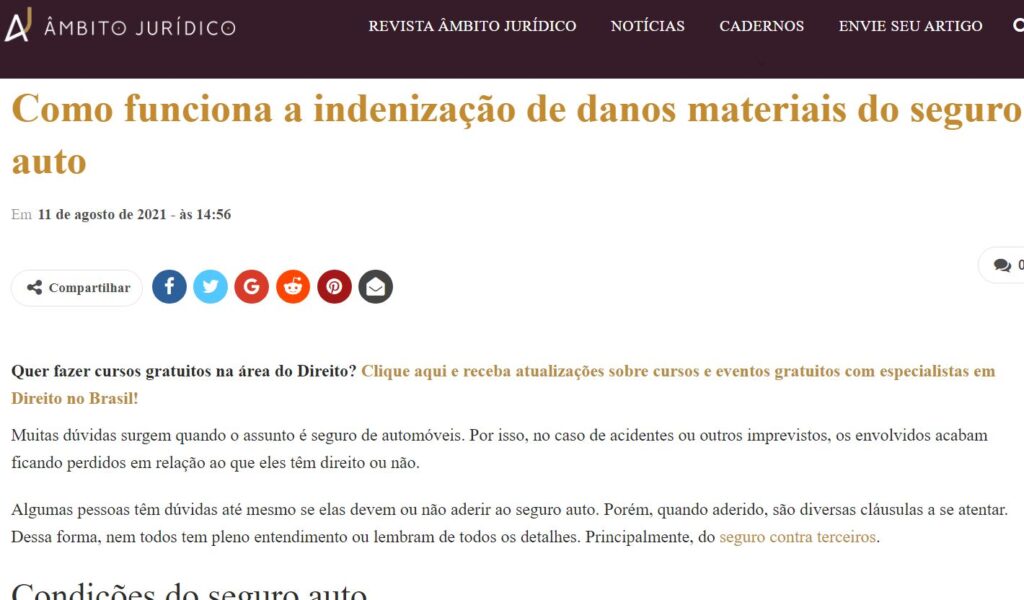 What not to do in Guest Post practice
If the guest post technique is done right, it can improve the site's performance. Also, bring credibility to your brand and promotion of your product.
The content can be entirely new to suit the blog that will receive the post. But it is also possible to recycle old content from your page, being updated to be sent to the other portal. 
This content recycling tactic is excellent for posts without the desired traffic. But the ideal is to delete your site's content so there is no duplicate content.
However, some precautions must be taken when practicing guest posts, as this strategy has often been used to manipulate the search engine algorithm. You should avoid some practices, such as:
Publish content on websites that do not share the same target audience as yours or that are not related to your services/products;

Insert too many links that redirect to your page in the text, in addition to publishing shallow, poor-quality content;

Make many guest posts on different sites without any selection criteria;

Duplicate content from a post to publish on another site; search engines can accuse plagiarism or duplication of content.
How to do link prospecting?
The best partners to perform link building are sites that are in the first place in search engine results. After all, they are reliable and authorities in the field.
In addition to searching for your niche and checking the first few results, a few other tools can be used to prospect for backlinks.
Moz has a Link Explorer tool that analyzes domain authority, simulating Google's algorithm to score different sites. Other companies also have relevant link prospecting tools.
Another way to prospect link building is to use Google Alerts. You will set up an alert with terms or subjects that are related to your site, and it will alert you when a website makes a post about that subject.
Thus, it is possible to check which sites are talking about the subjects you have defined, checking their popularity and positioning on Google. If it is relevant to your site, propose partnerships with these sites.
How to measure the results of Link Building?
There are several ways to measure the results of your link-building strategy. On platforms such as Google Analytics or similar, you can verify the origin of access to your website.
That way, you can compare whether that guest post sent to your partner is getting hits to the site and how many. Through Google Search Console, you can check exactly how many internal and external links point to your page and the main sites that point to your site.
Backlinks and their importance in company disclosure processes
When investing in strategies to promote your brand, SEO is the first one that comes to mind. After all, it's linked to your company's processes, activities, and other outreach efforts to potential customers.
Focusing on search engine optimization is a work that is in constant process, and one of the most important strategies is link building. But, we know that working on backlinks is a process that takes time and requires quality content.
To reach your audience and increase traffic to your website, it is not enough to send content to external publishers. It would be best if you used content marketing strategies and backlinks are the key to increasing your revenue and generating more leads.
But to reach your goal, you need to do SEO outreach or SEO Outreach. Understand!
How to apply the Outreach SEO method?
SEO, you already know, stands for 'website optimization for search engines, or Search Engine Optimization. But, you also saw that this is a static strategy and must be constantly updated. After all, Google's algorithms change all the time, and websites have to keep up with these updates.
Thus, outreach, or dissemination in Portuguese, can result in satisfactory results in your campaigns. Therefore, outreach exists to guarantee space in link building, generating more visibility for your website.
But, how to apply the SEO Outreach method? Always consider that SEO positions your page in search engines, and outreach will promote it through its blog partnerships. 
Thus, investing in SEO Outreach increases traffic and improves your website's positioning in search engines. So, to apply the Outreach SEO method, you should consider some analysis:
Traffic volume
Before investing in SEO Outreach, check if the site has traffic volume, that is if it is popular. After all, the more mentions on social media and famous it is, the more chances of generating traffic to your page.
Content relevance
Analyze if the content you want to publish is relevant to the site that will publish it but also to your page. For example, a niche site about the auto industry sends a text with industry tips to a site about parties. 
The subject will not be attractive to the reader, and Google will consider this link an attempt to manipulate the algorithm. This can cause your site to be penalized.
See an example of a partnership with one of the clients of the digital agency Gluz:
In the example above, you can see that SeguroAuto.org, a client of Gluz, made a guest post to publish on the partner site of the vehicle niche. Thus, the agency team could use a link that aggregates both the partner and the client page. 
Keywords
You've built a strong partnership working with Outreach SEO, so you don't want your content to be suspicious to Google, right? So, invest in keyword synonyms, as excessive use of the primary keyword can harm your publication.
So, now that you know what link building is and the most compelling advantages and strategies, including SEO Outreach. Ready to invest in link building?