SEO, Content and Localization Specialist for global brands
I have helped many sites rank within the top #3 in Google.
More than 5M organic leads generated!
I have helped many sites rank within the top #3 in Google.
More than 5M organic leads generated!
Clients I have been working with:
"I'm impressed, you've done a great job! We're working with several SEO Specialist all around Europe and I must tell that it has been a lot easier to work with you."
(Senior Specialist) WebRanking
"Always great work from Guilherme – a valued member of our successful lead-gen Business in Brazil!"
"It was a pleasure working with this man. Really nice cooperation and great communication! Thank you very much"
(SEO Specialist) Hyperia S.R.O
"Great working with such a reliable professional. He is great at both SEO optimization and copywriting."
Senior Online Marketing Expert (GloriaFood)
"Excellent work of high quality seo articles that I have ever seen, congratulations! Definitely we will contact you in the future when when have more jobs available!"
Marketing Manager - Wondershare
"Good work, nice guy, very available and professional! Knows his stuff in the Brazilian market"
SEO Senior Analyst - OBAN International
"Guilherme provides professional attitude, great communication and openness that make cooperation flawless and effective. Will be happy to offer more work soon"
(Marketing Manager) Devellar
Want to see more? Check
Testimonials
or click below on my Upwork profile with reviews for many Global Brands.
Brazilian Copywriter & SEO Specialist
I help companies grow and vastly increase organic traffic through my digital agency Gluz Digital.
During my 10 years of digital marketing experience, I led the content & SEO strategy for several websites related to Finance Services in Brazil and have also provided services for companies like Microsoft, Quinstreet, Babbel, Kriptomat, ExpressVPN and other global businesses.
I co-founded Vemm – one of the most successful start-ups for lead-gen in Brazil – and I was the leader for the Website (UX) Experience, Content and SEO Strategies. We built from scratch some of the most successful and valuable sites in the country for Auto Insurance, Health Insurance and Finance Services, and we have achieved the top ranking in Google for the majority of them. With a small budget and a skilled team, we were soon competing with big corporations and international insurance companies – and we beat them one by one in the rankings. We have generated 50M organic visitors and more than 5M organic leads for SeguroAuto.org, Planodesaude.net, Smartia.com.br and many other smaller sites over 5 years.
In 2015 we were acquired by Quinstreet, one of the largest media companies in the US (NASDAQ:QNST) and I led the Marketing & SEO department, helping the company continue growing with the sites in Brazil. In our first acquisition, smartia.com.br, we tripled organic traffic in the first year, generating 50% more visitors than we expected.

I've worked closely with international brands such as Microsoft, Babbel, ExpressVPN, MemphisTour Kriptomat and other digital companies, helping them with SEO & Digital projects for Brazil to achieve the best results.

In January 2020 in the Distrito Report for INSURTECH, Smartia.com.br and SeguroAuto.org were considered 2 of the 10 top sites in terms of organic traffic in Brazil for Auto Insurance.

I also have extensive experience as senior copywriter and transcreation, providing services for digital agencies and working with international clients such as Lufthansa, Instagram, Avon, Jaguar, and others.

Since 2011, I have been providing consultancy services for advertising agencies that enter the campaigns for the Cannes Lions International Festival of Creativity Awards – I work on the case idea, presentations and video content. I have been also covering the event as journalist for AcontecendoAqui, one of the most prestigious portals for Marketing & Innovation in Brazil. This is also my excuse to spend the Summer in the French Riviera!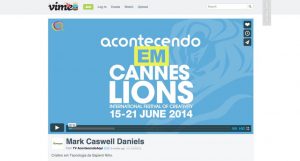 AWARDS
Cannes Lions Content Writing | Acontecendo Aqui Previous Next Project Details Acontecendo Aqui is one of the most popular online