Which is the best among many marketing automation tools? To make the right choice, learn about the benefits of the main ones here!
Digital marketing strategy is often not taken full advantage to extract all possible resources for achieving the expected result, it is necessary to use marketing automation tools.
Thus, you will be able to solve problems regarding time management, optimize customer service and relationships, and facilitate and improve the quality of processes.
But to take your digital marketing strategy to the max, choose automation tools that meet your needs. In addition, it will help you in your weaknesses, further optimizing your strengths. Know more!
What is Marketing Automation?
Marketing automation uses technologies, applications, systems, and software to automate marketing processes, increasing efficiency and maintaining customer relationships and personalized service.
Automatic triggering of emails, scheduling social media posts, and bots in online chats are all types of marketing automation. Social media automation that promises to gain more followers is an example, even if its use is not indicated.
Digital marketing automation intends to automate the generation and management of leads, making them go through all stages of the sales funnel, all the way to purchase. In addition, automation can be used to post-purchase with customers and maintain relationships.
What are the benefits of marketing automation?
Marketing automation allows you to increase sales and customer base without increasing costs, as the process is fully automated.
More efficient sales funnel:
Automation allows the funnel to be more efficient, optimizing the team's time, improving the company's relationship with the customer, approaching leads at the correct time of each stage, and making them naturally evolve through the funnel without demanding team efforts.
Marketing automation helps the team be more productive, replicating actions to the lead base and focusing on activities requiring personalized service.
Automated actions are less likely to fail than human actions, but they are not exempt, requiring team monitoring.
Automation means that leads are accompanied throughout the process, making more conscious decisions, investing in larger packages or more advanced products, and increasing the company's ticket.
Greater satisfaction and winning of loyal customers:
More conscious purchases make customers more satisfied and opt for the company's solutions for longer.
Monitoring the entire sales funnel:
With all the funnel stages tracked, it is easier to identify the steps that are not bringing the expected results.
Marketing automation tools
1. RD Station
Developed by the Brazilian company Resultados Digitais, RD Station offers automation possibilities such as scheduled email triggering, creating landing pages to capture leads, scheduling publication on social networks, and lead analysis, among others.
2. MailChimp
It is a free automation tool for triggering email marketing, with a simple interface and integration with social networks and Google, as well as an analysis of email marketing campaigns. It also allows you to create ads directly from the platform on social networks. It can be used in e-commerce actions, such as sending emails to customers who abandoned their carts.
3. HubSpot
One of the complete digital marketing and content marketing tools allows actions such as creating a personalized page for each lead and sending internal notifications to the team, in addition to having services for CRM and sales automation.
4. Autopilot
The premise of this tool is to automate the processes of generating and nurturing leads and email marketing, enabling the creation of content for instant messaging and chat applications for customer service.
Tips for applying marketing automation
Above you followed some marketing automation tools and learned about their main benefits. But how do we make this process a success? 
Check out some tips selected by SEO and digital marketing specialist Guilherme da Luz, founder of the digital marketing agency, Gluz!
1. Choose your persona profile

.
Determine who could be your potential consumer, that is, the ideal customer profile. It is essential to know that this profile differs from the concept of a target audience.
So do more research, interpreting your brand's customers' emotional and physical characteristics. You can use social networks to outline this profile, considering: income, location, gender, age group, interests, customs, and hobbies. 
2. Write relevant content
Investing in content marketing ensures the success of your page. To do this, count on a blog to disseminate information and offer tips about your product or service.
But first, select your main keywords, focusing on what your target audience looks for most. And work with factual content that speaks to your audience and not to the Google robot, for example. 
Also, when working with content relevant to your audience, invest in SEO techniques and explore social media to reach them. And don't forget to add a CTA (Call-To-Action) to your pages to generate leads.
Thus, by offering content that clears up doubts and talks to the reader, he may be interested in the product or service provided by your company. Then, through your blog, you can gain more leads.
See the example used by the digital agency Gluz on the page of one of its clients. Below, you can see a Call-To-Action, that is, a health plan quote tool added to relevant content: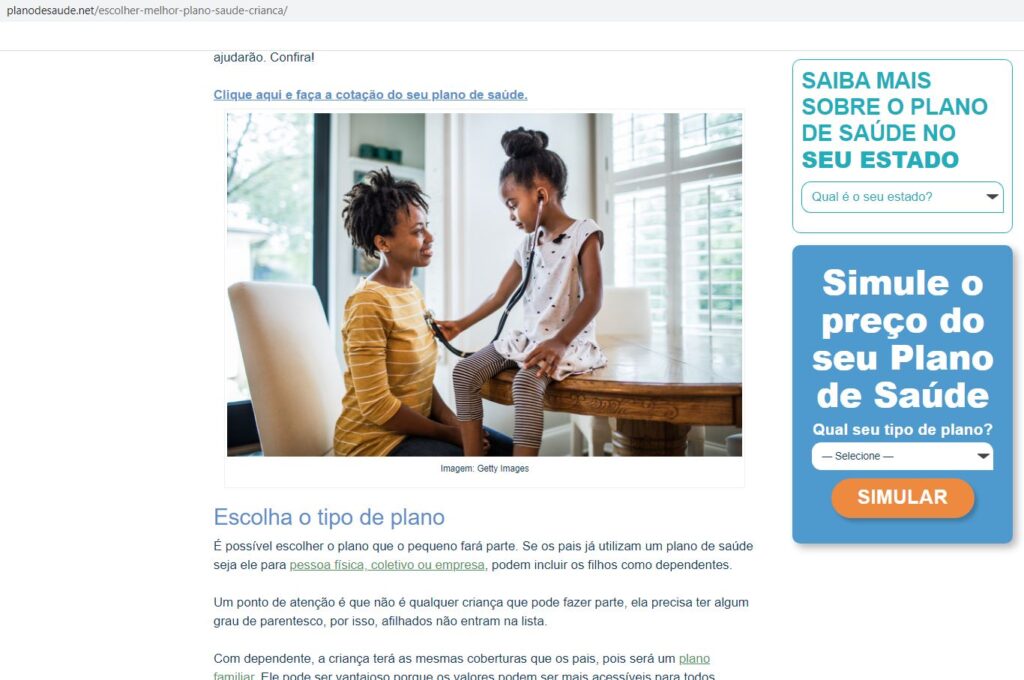 So, if the reader is interested in knowing how much he will pay for the children's health plan, click on 'Simulate.' In other words, the content brings useful information, price lists, and the option to quote the health plan online. 
Then, after reading the content and requesting a quote from the medical insurance, by clicking on 'Simulate,' the tool redirects the reader to the simulation page:
3. Nurture your leads through emails
To captivate potential buyers, create emails focusing on a planned send sequence. That is, start by presenting your company, at another opportunity you offer your solutions and, after, invite the person to purchase your product or service.
Don't forget to offer contact tools beyond your website, like WhatsApp Business.
4. Offer differentiated materials
Content marketing goes beyond having a blog on your website with tips and relevant information about your niche. Your page can offer rich materials, such as e-books that can be downloaded after filling out a form in which the reader must leave their contact email.
In addition, on your blog, you can offer infographics, making the reader experience even more prosperous. When using these materials, focus on solving your audience's main doubts about what you sell and deliver. Just a quick internet search to find out what they are.
Another option is to have a YouTube channel with videos to talk about and demonstrate your products and services. It is essential to know that Brazilian users are increasingly connected to YouTube. In addition, videos can also be part of your blog, giving more value to your written content.
Check below an e-book developed by the team of the digital marketing agency, Gluz for one of its clients: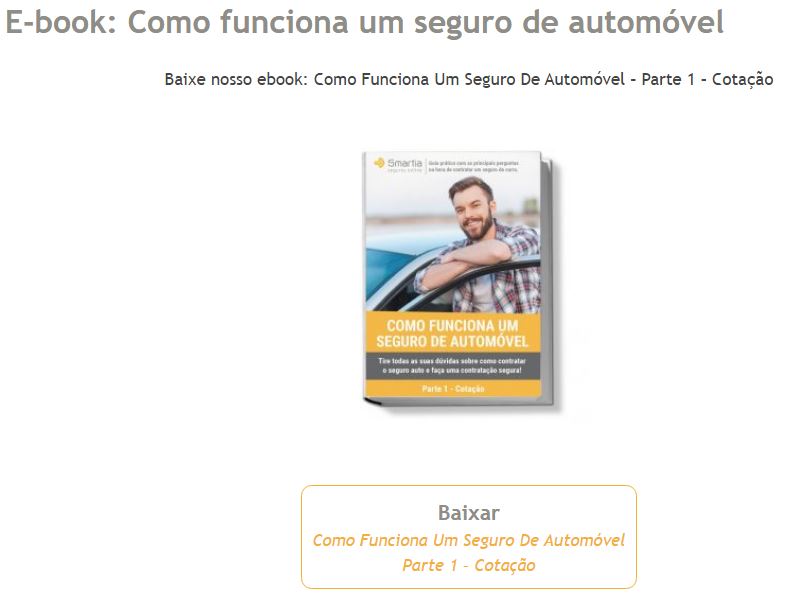 See that the material brings an instrumental theme to the site's target audience and has a CTA to download the material. 
5. Define your strategy
Decide what strategy will be used behind your digital marketing automation actions. Not only invest in attracting and conquering new customers but also in retaining the old ones.
A good tactic is to choose a specific time and material used in your automation. In other words, choose a frequency and channels based on your definition of digital strategies and persona.
Be sure to analyze your conversion rate for each action taken. For this, you can count on different tools, such as Google Analytics. Then, adjust your efforts as needed.
How important is it to filter leads?
To achieve the best results, it is essential to filter the leads, and you can count on different tools. In the example above, used and applied by the marketing agency, Gluz, in one of its clients, you saw about the quote tool.
The site can capture and generate leads. When working on content that offers the correct information, ask questions and lead the reader to use your sales tool.
Thus, when filling out the quotation form, the user informs relevant data for the qualification of leads. Therefore, using a more dynamic approach makes the method effective and can improve the conversion into sales. 
It is essential to know that the example given shows that the content produced helps to attract potential leads. If your website is focused on a particular product or service, don't stray from the focus of your business niche.
With this, your page starts to receive only visitors who are interested in your business. In addition, when searching for the essential subject in the search engines, your page will appear among the first options.
Another critical point is to consider that within a base of contacts captured by a specifically chosen tool, there are different leads. When doing the segmentation, you will filter leads from that segment, selecting the ones that offer specific information.
Thus, you will have a dynamic list and will be able to develop targeted marketing actions according to the needs of your company. Therefore, by filtering, you can separate potential customers from leads who are not interested in your business.
So, now you know the four marketing automation tools and their benefits. Ready to put it into practice?